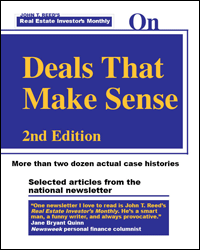 Deals that Make Sense, 2d ed.
Deals That Make Sense, 2nd Ed.
by John T. Reed
"One newsletter I love to read is John T. Reed's Real Estate Investor's Monthly. He's a smart man, a funny writer, and always provocative."
Jane Bryant Quinn, Newsweek personal finance columnist

"I first encountered your books about 15 years ago when we first got started buying rental real estate. Yours has been amongst the finest advice we've received. Your words ring in my ears to this day and I'm looking forward to reading more. THANKS!!!"
More than two dozen actual case histories of smart deals done by actual real estate investors. Bargain purchase a divorce. Apartment building foreclosure. Acquiring a foreclosed owner's right of redemption to buy the property back—cheap. Inner-city fixers. Profiting by buying temporarily stigmatized properties. How to use property-wanted ads to buy bargains. Probate overbid profit deal. An examination of the entire career of one investor.
Do-it-yourself construction of two homes per year. Profitable fixer. A bargain purchase as a result of a tax lien purchase. Profiting by buying a leper property with a bad foundation. Fixing a duplex for big profit. $80,000 profit on probate house. Profits in used timeshares. Buying a positive cash flow rental house for $5,000. Profit in an OREO with a title problem. Still bargains in Anchorage. Quick sale of an OREO.
Specializing in fixers for the over-55 market. Getting affluent slowly in rental houses. RV park profits. Renting property as a location photograph or movie set. Flipping the way it's really done. Student housing fixer. Quick profits in gentrifying neighborhoods. Bargain in homeowners dues distress sale. Profits in miniwarehouses. Another approach to pre-foreclosures. Making money at delinquent tax auctions.
Not available in traditional or online book stores
52 pages, 8 1/2 x 11 paperback, $29.95
Other similar books I wrote are:
When you buy 2 books at the same time, you save $2.55 on shipping to U.S. addresses. Shipping is free if you buy 3 or more books at the same time.
---
We Also Recommend
---