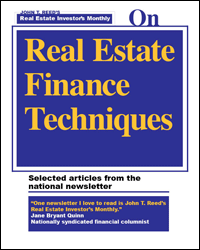 Real Estate Finance Techniques, 2nd ed.
"One newsletter I love to read is John T. Reed's Real Estate Investor's Monthly. He's a smart man, a funny writer, and always provocative." 
Jane Bryant Quinn, personal finance columnist
Articles from Real Estate Investor's Monthly on real-estate finance techniques. Topics covered include:
Combining an adjustable rate mortgage with a hedge to, in effect, lock the rate at a low level
Safe use of unhedged adjustable rate mortgages
HUD 223(f)multifamily mortgages
Financing checklist
Use of lines of credit
The long-term loan-to-value ratio goals you should adopt
Improving your Fair-Isaac Score
Whether and how to preserve existing financing
Refinance lessons learned
Problems with wraparound mortgages
When to pay down rental property mortgages

How to lock a mortgage commitment interest rate even when the lenders declines to do so
Importance of non-recourse mortgages and how to use them
FNMA multifamily mortgages
Conventional income-property financing
Use of lines of credit
Whether trusts get around due-on-sale clauses
'Subject to' financing
Securitization of mortgages
The trade-off between price and terms
Not available in traditional or online book stores
112 pages, 8 1/2 x 11 paperback, $29.95
Two other finance books of mine are Fundamentals of Real Estate Finance and Single-Family Lease Options.
When you buy 2 books at the same time, you save $2.55 on shipping to U.S. addresses. Shipping is free if you buy 3 or more books at the same time.
---
We Also Recommend
---