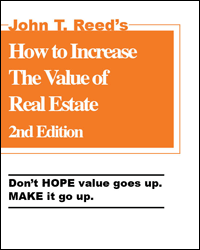 How To Increase the Value of Real Estate, 2nd ed.
Stop Waiting for your value to go up. MAKE

it go up.
This book tells you how to make the value of selected real estate go up whether your local market values are going up or down. There are many more ways than renovation to make real estate values go up. See the table of contents for a list.
Since 2006, real estate values have generally gone down or been flat. Forecasts are for more of the same. So waiting for higher value doesn't work any more. You need to add value in today's market.
How do you do that? My just-off-the-press improved version of How to Increase the Value of Real Estate gives you 19 chapters on 19 different categories of ways to raise the values of selected properties. The methods include both tangible changes like turning unrentable space to rentable space and actually moving the whole building to another lot—and intangible changes like rent increases and better zoning.
144 pages, 8 1/2 x 11 paperback, $39.95 
Actually adding value puts you in charge of price appreciation and keeps you in the real estate investment game when others have to stay on the sidelines. Adding value by making cost-effective changes to selected properties is an evergreen strategy that works in all types of markets.
Adding value to real estate is a lost art. For 40 years, real estate investors have generally been able to profit by just buying a propery and holding it. But that has not worked since the early 2000s. That leaves two viable strategies: adding value and buying the property at a bargain price. How to Increase the Value of Real Estate and Fixers are my two books on how to add value.
When you buy 2 books at the same time, you save $2.55 on shipping to U.S. addresses. Shipping is free if you buy 3 or more books at the same time.
---
We Also Recommend
---