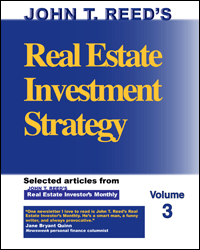 Real Estate Investment Strategy, Volume 3, 2nd ed.
One of my readers told me he re-reads Real Estate Investment Strategy every year. I've added 17 new chapters to Volume 3 of Real Estate Investment Strategy.
Real estate investment myths
Since 1970, real estate investment information business has been all but taken over by a bunch of criminal con men and women. They have perpetrated so many myths about real estate that it has become perhaps the only field where your education needs to include deprogramming of the kind done on cult members. Contrary to what you have been told, positive cash flow is very hard to come by and stems primarily from not using much leverage. If you put money in your pocket at closing when you bought a property, you probably broke at least one law. What little profitable flipping is actually being done is done by organizations with many people working on the various aspects of a flip: finding bargains, renovating them quickly, and marketing them just as quickly. Flipping is extremely advanced, difficult stuff. It is most definitely not a one-person part-time activity.
New chapters
Real estate investment myths
When good contractors go bad
Too much fixing
Profiting from dumb real estate laws
The use of auctions to sell real estate
Revisiting Nickerson's advice in 2006
Reducing transaction costs
Investing when values are 'falling'
Stock market tools for real estate
More dispersion
No wires
New home value web site
More on-line real estate listings
Paperless mortgages
First completely electronic closing in PA
Zillow — doesn't work, but who cares?
Inflation has been tamed, right?
See the table of contents for a list of all 40 chapters.
Too much fixing
Most fixer investors fix too much. Some fixing is profitable. Some is breakeven. Some fixes lose money. Only do the first kind—the profitable kind. Get the fast buck not the last buck. The goal is not a perfect house when you're done. It is optimum return on your time spent and money invested. If the property is vacant, you have to work extremely fast. And you cannot afford to spend $500 on improvements that will only increase the property value $500—or less. Only the biggest, most dramatic stuff can be fixed profitably: things like fire damage and crooked foundations and pet urine smell. Don't buy fixers. Buy disasters and turn them into fixers then sell fixers.
Reducing transaction costs
In the stock market, the leading experts have been harping about minimizing transaction costs for years. The best mutual funds—Vanguard—have the industry's lowest operating expense ratios by far: .20% in the case of the Vanguard S&P 500 fund. Real estate transaction costs are outrageously higher than even the highest in the securities markets. But there are ways to reduce them. One of the main generators of transaction costs is lenders demanding you purchase various things to protect them. If you could do without an institutional lender, by paying cash or using seller financing, you could eliminate many of the biggest transaction cost. And there are other ways to reduce transaction costs as well.
See the Table of Contents.
"One newsletter I love to read is John T. Reed's Real Estate Investor's Monthly. He's a smart man, a funny writer, and always provocative."
Jane Bryant Quinn, Newsweek personal finance columnist
92 pages, 8 1/2 x 11 paperback, $29.95
Not available in traditional or online book stores
---
We Also Recommend
---