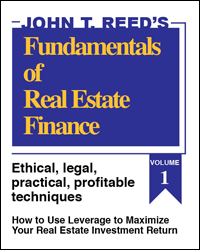 Fundamentals of Real Estate Finance
This is Volume 1 of the series How to Use Leverage to Maximize your Real Estate Investment Return
How to measure the time value of money, developing your leverage strategy, Reed's Rules of real estate finance, the tax ramification of financing real estate, and how lenders decide whether to say yes.
This is volume 1 of a 3-volume set.
Volume 2 is How to Buy Real Estate for Little or No Money Down
Volume 3 is How to Structure Your Mortgage
When you buy 2 books at the same time, you save $2.55 on shipping to U.S. addresses. Buy 3 books at the same time and there is NO shipping.
70 pages, 8 1/2 x 11 paperback, $29.95
Not available in traditional or online book stores
---
We Also Recommend
---