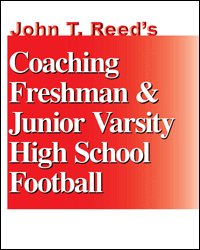 Coaching Freshman & Junior Varsity High School Football
There are a zillion books for varsity football coaches. But freshman and junior varsity coaches have been forced to work off the varsity books. That's unsatisfactory. Freshman and junior varsity football are different in many ways. 255 pages, 8 1/2 x 11 paperback, $34.95
The freshman coach is the players' first encounter with the high school and their first encounter with high school sports. Almost all incoming freshmen and their parents are quite experienced with youth sports. Unfortunately, freshman football is also different from youth sports. For example, youth sports generally shut down on holidays. But high school football teams always practice on the Saturday and Monday of Labor Day weekend. Not warning your players and parents about new things like that well in advance can result in you angering your players' parents even before the first practice. There are also numerous differences between varsity and lower levels of high school football. You need to recognize and think about them.
Freshmen and junior varsity players neither need nor have much time for conditioning. Their younger bodies rarely pull muscles or get cramps and they are far less likely to become fatigued during a game the way varsity players do. They need to learn and refine the basics like holding still until the snap, going in motion legally, and so forth. With large roster sizes, lower level coaches can generally use their huge bench to deal with occasional player fatigue.
Coaches typically spend too much time on conditioning and drills. For example, coaches tend to spend too much time telling players how to block and too little telling them whom to block, which is far more important. College/NFL practice techniques like walk-throughs and set-recognition practice are far more productive.
Discipline, which is all but non-existent in youth sports, is extremely important at the high school level, especially for coaches who have moved up from the youth level. The freshman or J.V. coach must strike a delicate balance between too little discipline, which can destroy the team, and too much, which can drive away good players unnecessarily.
Small-group position clinics are one of the most effective ways to coach the basics of each position. This book lists the curriculum for position clinics for every offense, defense, and special teams position.
Offense is discussed generically because most lower level high school coaches have to run the varsity's schemes. Author John T. Reed coached six high school teams and studied endless hours of film to see which offensive plays work best at the freshman and J.V. levels for him and his opponents and lists and describes those plays in this book.
The book goes into great detail on how to get your players to carry out the correct assignments, which is 85% of offensive success. It also discusses the crucial question of whether to platoon and how much to platoon and how to organize your practice schedules to best accomplish either.
The defense lists the plays you are most likely to have to defend, how to defend them, and the one- and two-step drills that efficiently get your players to react properly to their keys for each type of play.
Special teams plays are detailed with diagrams that you can use on the field on game day.
The book explains how to arrange for and get good video of your games and your upcoming opponents' games. Finally, it covers administrative matters that are more important at the high school levels than in youth football, key rules to learn, what to cover at the all-important parent meeting, common coaching mistakes, how to select assistant coaches, players' academic grades, grading game film, and your game-day coach's play list and other necessary checklists and diagrams.
For youth football coaches, this book is essentially advanced youth football. Another "advanced" book you might like is my Contrarian Edge for Football Offense.
When you buy 2 books at the same time, you save $2.55 on shipping to U.S. addresses. Shipping is free if you buy 3 or more books at the same time.
---
We Also Recommend
---