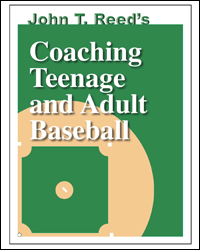 Coaching Teenage and Adult Baseball
Stop wasting precious practice time
Most amateur coaches either have no effect on their teams or actually cause them to play worse, especially in the batter's box and on the base paths. The widespread practice format of 45 minutes of infield and 45 minutes of batting practice is a waste of time. Coaching Teenage and Adult Baseball was written by an experienced coach who tried all the stuff you're supposed to do, found most of it did not work, then experimented with different coaching methods. This books tell you about the ones that worked. Not only baseball coaching approaches that work, but that work fast because a season is too short for methods that work slowly. The book is also real world covering subjects like cheating in the draft, the parents meeting, and how to deal with the weakest players. See my other articles on baseball coaching. 
"The difference between our team and the remainder of the league was remarkable...your strategies are more fundamentally sound and offer more of a competitive advantage than all of the other books I have read, combined...we were able to take an inferior team (talent-wise) and win the championship."
Brad
"...after purchasing your baseball book and managing my team to its first league championship...we went on to be in the championship game three more times...we won one more of those. I attribute our success to what I applied after carefully reading your book...Thanks again for all of the great experiences over the past few years." Dennis Rapkins
"Last season...the team hit .267. This year, after reading your book, we...hit .406 as a team. .606 on base percentage too!" Robert J. Merlino, Jr.
"Most important of all, my son and I really had a great time and I have you to thank. I can't say enough about you and your philosophy. Rich Ehrlich
"Your youth baseball coaching philosophy allows even the "projects" to see improvement within a single -season when they are on my team." Michael P. Sullivan
"We had a coach in San Diego last year that fully implemented your teaching and took an inherited 3-18 team to first place the next year." Cliff Gardner
"...magnificent book...brilliant... I heartily recommend it to all baseball coaches on every level for the vast information it provides." Lou Pavlovich, Jr. Collegiate Baseball review
To see the full text of the above testimonials and many others, click here.
Many who buy Coaching Teenage and Adult Baseball also buy Youth Baseball Coaching.
When you buy 2 books at the same time, you save $2.55 on shipping to U.S. addresses. Shipping is free if you buy 3 or more books at the same time.
---
We Also Recommend
---